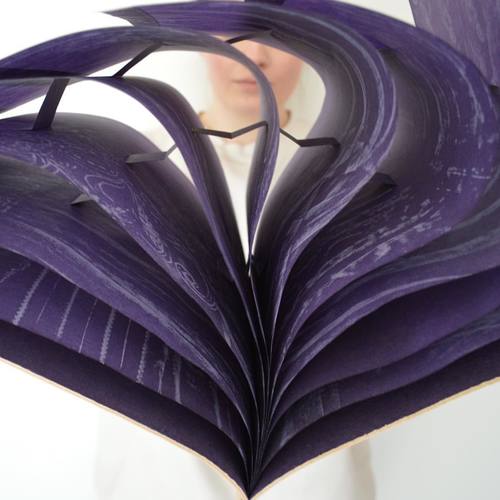 Fashioning
Fashioning
is the second book collaboration between Denise Bookwalter and Lee Emma Running. Their first artist book,
Lining,
investigates the intimate relationship of textiles next to the skin. In
Fashioning
the artists continue their work with their intimate relationship with clothing. Clothing retains the story of the wearer. In
Fashioning
the artists capture their relationship with clothing by making rubbings of embellishments found on personally significant garments. The drawings directly capture a moment in the life of the textile. The textile contains its own evidence of the hands that made it and the bodies that wore it. Each of the rubbings were transferred to letterpress printing plates, printed in white, resit dyed, and waxed to create a book structure that becomes a book the reader wears.
Fashioning
is a tactile experience embedded in cloth and paper.
---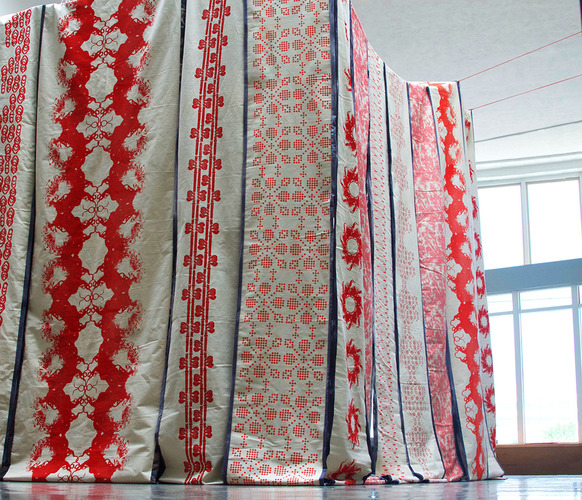 Lining : Sheathing
Lining : Sheathing Is a collaborative installation by Denise Bookwalter and Lee Emma Running exploring the materials of textiles, handwork, and embellishment. Using the 60 X 80 inch size of a queen bed as a measure, we created a series of large format woodblock prints on handmade paper, and built a bedroom sized printed canvas and dyed silk tent. Viewers were invited to wear bed jackets and move through images printed, dyed and stitched onto multiple materials into a more and more intimate space.
This project was developed with residencies at Penland School of Crafts, Small Craft Advisory Press, and Constellation Studios.


---